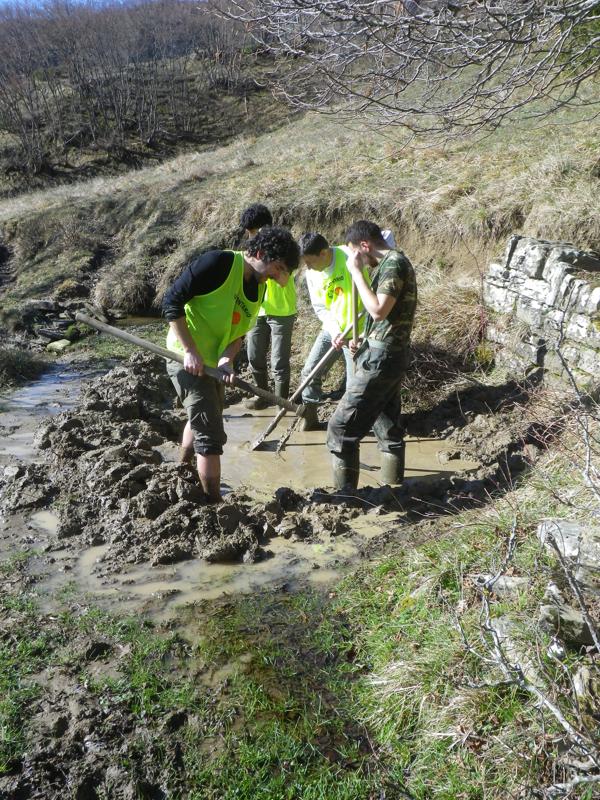 Foto: Andrea Pollini
From the 18 to the 20 of March was held the second volunteer session dedicated to amphibians (volunteer project coordinated by the Coop. Inquiete).
At the volunteer experience participated four person came from different parts of Italy, they were accompanied by a coordinator
The weather was good and allowed them to create two new breeding sites for the yellowbelly toad in the area of Lavacchio in the municipality of Santa Sofia.
These volunteers have had the opportunity to gain a deeper insight of the project through a presentation by David Alberti of the Foreste Casentinesi National Park.
The last day they could visit the breeding sites of the amphibians and they saw eggs and some specimens of crested newt.
This was the last volunteer session dedicated to amphibians for this year, but 15-17 of July will be held a session dedicated to the butterflies of the WetFlyAmphibia project.
Regulations and application form can be downloaded from the website www.parcoforestecasentinesi.it or from the special section of the forum site http://foreste.casentinesi.forumfree.it/. For more information: volontariato@parcoforestecasentinesi.it.